The most effective IoT tool for long-term hydrogen monitoring in subsurface
SurfMoG H2 is the result of the expertise and union of a French company, 45-8 ENERGY, and a Swiss company, SOLEXPERTS. 45-8 ENERGY's knowledge of subsurface and expertise into industrial gases, coupled with SOLEXPERTS' recognised skills in terms of mechanics and electronic, led to the creation of the most effective IoT tools currently on the market for accurately and continuously monitor hydrogen in the subsurface over long periods of time: SurfMoG H2
TECHNOLOGY
SurfMoG H2 is composed of:
An interchangeable gas analysis chamber, with an electrochemical sensor for hydrogen measurements up to 40,000 ppm (4%).
An inox probe, designed specifically to withstand the subsurface's constraints, houses the sensor, battery and communication system.
A highly-resistant plastic cover, to protect antenna and assure accurate data transmission without interference from the probe's installation environment.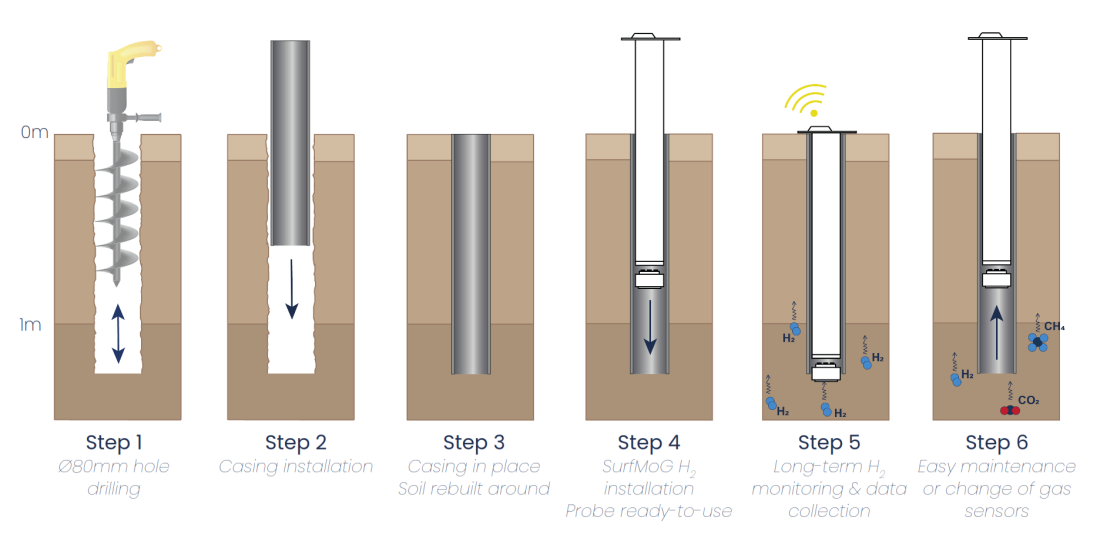 Probe
Inox 316 for probe & casing
Diameter of the Probe: 7 cm / 2.8 inches
Height of the Probe: 100 cm / 39 inches
Weight of the Probe: 8 kg
Interchangeable gas analysis chamber


Sensors
Hydrogen electrochemical sensor: 0 – 40 000 ppm
Temperature sensor
Operating temperature range: 0°C - 50°C
Operating humidity range: 10-90%
Data Acquisition & Transmission
Measurements at 1m depth
Sampling rate: 2 times per hour (adjustable)
Operating life: 1 year
Communication standards: GPRS
Data package transmission: 1 time/day


An Innovation of

and