Hybrid Multi-Packer Systems (HMPS)
The Hybrid Multi-Packer System (HMPS) combines the advantages of the Stand-Pipe Multi-Packer System and the conventional Multi-Packer System.
Features of the Hybrid Multi-Packer System (HMPS)
The lower system part consists of a multi-packer system, the upper system part of a stand-pipe multi-packer system. Both system parts are connected by a transition module (see adjacent figure). Each observation interval is accessible via a separate stand-pipe.
The HMPS is particularly suitable for deep boreholes (> 300 m) with different borehole diameters. It is a cost-effective alternative to a complete standpipe multi-packer system.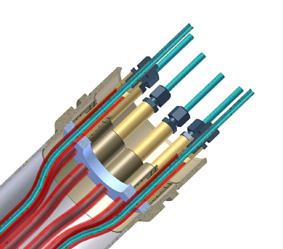 Downloads